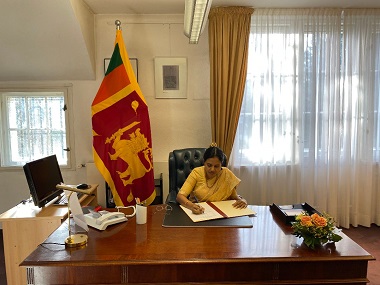 Varuni Muthukumarana, Sri Lanka's Ambassador-designate to Germany, assumed duties at the Sri Lanka Embassy in Berlin on 2nd February 2023.
A member of the Sri Lanka Foreign Service year 2000 batch, she has over 23 years of bilateral and multi-lateral experience serving at the Ministry of Foreign Affairs in Colombo and at Sri Lanka Missions abroad. Her last position in the Ministry was as the Director General of the Europe, Central Asia, EU & Commonwealth Division of the Ministry of Foreign Affairs.
The foreign postings of Ambassador-designate Muthukumarana include the SAARC Secretariat in Kathmandu and Permanent Mission of Sri Lanka to the UN in New York.
She has a Bachelor of Science (BSc) degree from the University of Colombo and a Master of Science in Foreign Service (MSFS) degree from Georgetown University, Washington DC. She is a past pupil of Sirimavo Bandaranaike Vidyalaya, Colombo.
Embassy of Sri Lanka, Berlin 2nd February 2023