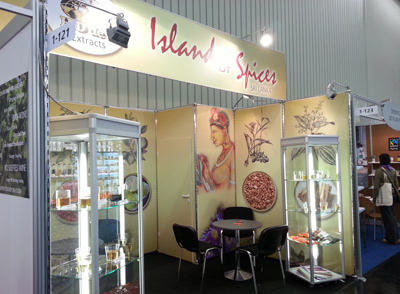 Biofach and Vivaness are the biggest trade fairs for organic Foods, Natural Cosmetics and Wellness.
Facts at a glance
41,794 professional visitors, 129 countries and 2,396 Exhibitors.The major visiting countries were Germany, Italy, Austria, France and the Netherlands.

Sri Lanka was for the first time was represented with a country pavilion.

In Germany the Organic food turnover raised in 2012 by 6% to over 7 Billion €,International organic food product had a turnover of 63 Billion €.

According to the patron of Biofach, the International Federation of Organic Agriculture Movements (IFOAM) and the national carrier the Bund Ökologische Lebensmittelwirtschaft (BÖLW), the market potential has not reached it's limits.

A total amount of 571 new products was presented at a special counter

Special promotional and tasting areas were setup for organic cheese, organic vine, organic olive oil, fish and organic coffee.
Participants in EDB Country Pavillion: 3

Renuka Agri Foods PLC

Siddhalepa Exports (Pvt) LTD

Bio Extracts Pvt Ltd

Single Exhibitors who came on their own: 8

Bio Foods (Pvt) Ltd

CBL Natural Foods

CNT Enterprises (Pvt) LTD

EOASOrganics(pvt)LTD
Greenfield

HDDESExtracts(Pvt)LTD
HJS Condiments Limited

MA's Tropical Food Processing (PVT) LTD
Recommendations


Considering the fact that Biofach is the leading trade fair for organic food items it is highly recommended that Sri Lanka increases it's participation at this Trade Fair.

As Biofach is a relatively new trade fare it offers opportunities for Sri Lanka to position itself as a leading organic food producing location.

Companies should emphasize that pesticides are not widely used in Sri Lanka.
Challenges faced by Sri Lankan exhibitors
All organic food must be certified as organic.

Necessary structures should be set up to enable the Sri Lankan producers to obtain international accepted certificates.

Prices must be kept competitive in order to enter the organic food markets
Recommendation
Early booking discount: If the registration is done very early, the Fair Authorities provide a deduction on the price for space rental.

Natural cosmetics were not exhibited this year. As Sri Lanka has many natural beauty products a concerted effort should be made to encourage companies in Sri Lanka to exhibit their products at next year's events.