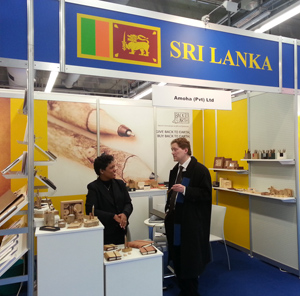 Sri Lanka makes their presence felt at the Paperworld exhibition held in Frankfurt early this year facilitated by the Sri Lanka Consulate General in Frankfurt – Germany.
Facts at a glance
2,967 exhibitors and 83,206 visitors from all over the world participated in paperworld
Everything revolved around tomorrow's trends, impulses and business opportunities.

66 countries presented their latest products and marketing concepts at the Paperworld, Creativeworld and Christmas world trade fairs in Frankfurt.

With its comprehensive complementary programme, Paperworld was also a valuable source of impulses and ideas: important trends, such as the presentation of themed and product worlds, commercial purchasing, multi-channel strategies and sustainability, were taken up in business programmes, special presentations and forums.

Almost 300 people attended Procurement Business Programme, which was aimed at buyers of commercial office materials from private companies and public authorities with 100 or more office workplaces. This is an increase of 70 percent over last year.

The number of participants who registered for the 5

th
Comments
"We are very pleased with the results of all three events against the background of the economic situation in the fields of paper, office supplies and stationery, hobby and artists' requisites and festive decorations", said Detlef Braun, Member of the Executive Board of Messe Frankfurt.
This year saw an increase in the number of international buyers, most of them from East Europe "The fair has become significantly more international than in previous years. In particular, we noticed an increase in demand from East Europe. This year, Paperworld will once again do justice to its status as the world's leading trade fair for the paper, office supplies and stationery sector", said Dr Rüdiger Kress, Director, Artebene GmbH.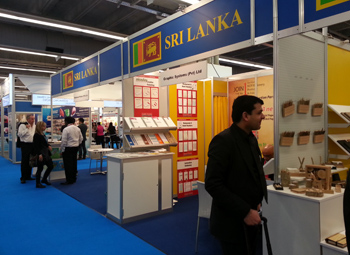 "The positive echo from visitors and the further increase in the number of participants confirms that we reach the intended target group with this exclusive business programme and that the concept is a success", says Michael Reichhold, Paperworld Director.
"This was my first time at Procurement and I was very pleasantly surprised. The entire Procurement area is interesting and exclusive, and something that isn't to be found at any other fair. said Cosima Meyerratken of the KFW Building Group.
Sri Lankan Participants – Country pavilion organised by EDB –Sri Lanka
Companies that participated
Amoha Pvt Ltd (Back to Earth)
PrintXcel
Graphic Sytems (Pvt) Ltd
Nalaka Stationary
CIC Holdings
Toppan Forms
Madhawee Printers
Independent Exhibitors at Paperworld.
Srinko Enterprises (PVT) Ltd
Richard Trading Co. (Pvt) Ltd
Ceylon Pencil Company (Pvt) Ltd
Recommendations made by the Sri Lanka Consulate General in Frankfurt Germany
Paper world, creative world, and Christmas world is an emerging market in Europe.
It presents enormous business opportunity for businesses in Sri Lankan in terms of presenting their creative and production capacity. It also gives an opportunity to Sri Lankan companies to meet with companies that are looking for prospective business partners in the east.
After the successful completion of Paperworld this year we encourage companies to make arrangements in advance to participate in next year's event.
Contact the trade division of the consulate for further information and assistance