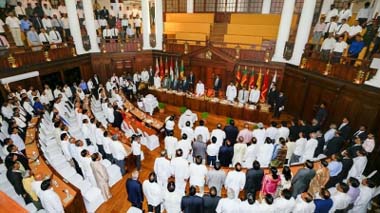 The good governance that is the hope and great expectation of everyone could be realized by the political leadership and the public service working in an exemplary manner, in carrying out all their responsibilities, said President Maithripala Sirisena when he began his duties at the Presidential Secretariat yesterday (12).
Addressing political leaders, senior public servants and employees of the Presidential Secretariat, he said it was the responsibility of everyone to ensure the functioning of an enlightened and understanding public service in the country. His aim was to establish and ensure a public service that would not become the tools of those who come to power from time to time, but would be an institution of long term genuine service to the country and people.
He also said that in keeping with the needs of today it was necessary to have a new political and administrative culture that would contribute fully towards the eradication of poverty and corruption from the country. For this purpose he invited all to come together in the genuine spirit of service to the country.
Quoting from the Dhammapada that good governance in keeping with the Dhamma would bring all benefits to the people, the President said the necessity today was not for kings, but for those who engage in genuine service to ensure the dawn of an era of good governance.
President Sirisena said he expected the cooperation of all, including all political parties represented in Parliament, to ensure implementing of the policies and pledges in his manifesto to be achieved within a hundred days. He thanked all who participated to ensure a successful election and gave every assistance for the new strength that has been given to democracy through this election. (PRIU)
Find the full article under http://www.news.lk/news/politics/item/5679-political-leadership-and-public-service-should-set-an-example-to-country-president