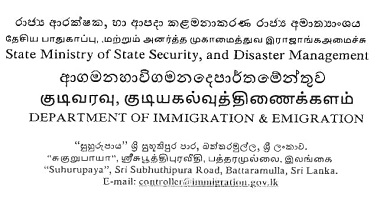 The Department of Immigration and Emigration has been commenced issuing ETA at arrival by re-opening the On-Arrival ETA counter at the Airport for limited number of bona fide tourists with effect from 07.10.2021 with a view of encouraging the arrival of fully vaccinated tourists.
Please be informed that issuing On-Arrival ETA will be facilitated for tourists who are unable to obtain ETA by online method due to time constraints experienced when arranging their journey to Sri Lanka within a very short period. Further, this facility will be provided considering as an essential service requirement by adhering to all covid-19 preventive measures declared by the Government of Sri Lanka.
In view of the above, On-Arrival ETA will be issued as per the provisions prevailing in the Immigrants and Emigrants Act and in par with the quarantine measures declared by the Ministry of Health on 28.09.2021 for travellers arriving from overseas during the pandemic of covid-19.
As per the section G.1 and G.3 of the aforementioned guideline,
Fully vaccinated travellers will be released from the airport and do not need to do Day-01-PCR-Test or undergo quarantine after their arrival in Sri Lanka.
Travellers, who haven't been fully vaccinated, need to do Day-01-PCR-Test, and they should undergo 14 days mandatory quarantine at a safe and secure certified Level 01 hotel. Also, they have to abide by the covid-190 preventive operational guidelines issued by the Sri Lanka Tourism Development Authority (SLTDA) after their arrival in Sri Lanka.
Accordingly, On-Arrival-ETA service can be obtained by fully vaccinated tourists only. However, please be noted that it is advisable to obtain the Online ETA by tourists prior to their arrival to avoid unnecessary delays at the airport.