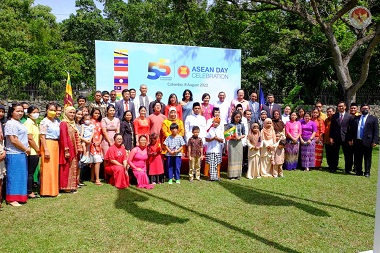 Secretary to the Ministry of Foreign Affairs Aruni Wijewardane was the Chief Guest at the 55th ASEAN Day on 8 August, 2022 at the Indonesian Embassy in Colombo. The event was hosted by, Ambassador of Indonesia, Dewi Gustina Tobing, and the Heads of Mission of the four other ASEAN Member States in Colombo, High Commissioner of Malaysia, Tan Yang Thai, Ambassador of Myanmar, Han Thu, Ambassador of Thailand, Poj Harnpol, and Ambassador of Vietnam, Ho Thi Thanh Truc.
Foreign Secretary Wijewardane in her remarks, recalled the strong ties between Sri Lanka and Southeast Asian countries which date back to ancient times when Sri Lanka was known worldwide as a major maritime economic hub. In continuing these connections which are centuries old, today there are many opportunities for Sri Lanka to partner with successful ASEAN economies.
The Foreign Secretary highlighted the recent visit of Foreign Minister Ali Sabry to Cambodia to attend the ASEAN Regional Forum where he engaged constructively with ASEAN Members, Observers and Dialogue Partners. She also referred to the ASEAN ACT – 'Addressing Challenges Together' as an apt theme as ASEAN works towards a sustainable future of revitalizing economic activity, ensuring food, energy and climate security and addressing the regional security environment.
Chief of Protocol Senarath Dissanayake and Director General South East Asia Division, Satya Rodrigo of the Ministry of Foreign Affairs also attended the event which was followed by a reception.
Ministry of Foreign Affairs, Colombo, 09 August, 2022