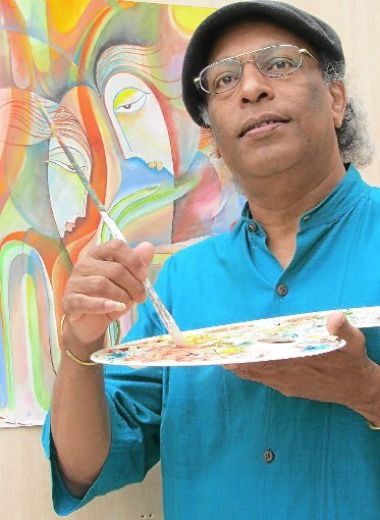 Calw / Hamburg. Asia-Africa Institute of the University of Hamburg will hold its 11th South Asia Day on 16 November. Sri Lanka will be in the limelight. This fits well because 60 years of diplomatic relations between Germany and Sri Lanka were recently celebrated in Berlin.
At the start of the event diplomatic representatives of the Member States of the South Asian Association for Regional Cooperation (SAARC) will meet scientists. During a panel discussion, the participants will present their different perspectives and ideas on topics relevant to the region.
"Contemporary fine arts" will be among the main issues. Jayantha Gomes, a Sri Lanka-born artist who lives in Calw, has been invited to represent his country at this South Asia Day. He will not only be present as an artist and author, but he was also asked to moderate a traditional Sri Lankan dance show on stage.
It is the second time that Gomes was chosen to officially represent his country as an artist: in 1981, he was already an official representative of Sri Lanka at the international art show "Partners in Progress" in West Berlin. Since 1978, Gomes has traveled to many different countries, such as Germany, USA, India, Switzerland, Norway, the Czech Republic—just to name a few—and showed his art at exhibitions and workshops. Over the years he has won several international awards for his artistic and social projects.
In his presentation during the 11th South Asia Day in Hamburg, he wants to include his experiences with the German Nobel laureate Hermann Hesse and his poem "Siddhartha". Gomes illustrated Hesse's "Indian poetry" in 1993.
After nearly 30 years of war, Sri Lanka, this small island in the Indian Ocean, has found her way to peace and is open to embrace the world. During this war, the country was under the pressure of terror. The artists' creativity suffered immensely, whether in the visual arts, literature or music, theater or film. If one started to reflect on the subject "of contemporary fine arts in Sri Lanka," one should not forget about the 30-year war, Jayantha said. It was a terrible time for artists of any kind, he said. And: "Art is the daughter of freedom" (Schiller), "but there was no freedom for many years in Sri Lanka."
Source: Schwarzwälder-Bote (online edition) of 20 August 2013