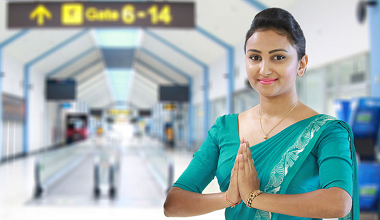 The Airport and Aviation Services (Sri Lanka) (Private) Limited (AASL) requests passengers travelling to Sri Lanka to complete their online "Health Declaration Form" before landing in order to ease their health check at the airport. Both foreign and local passengers, who wish to visit the country should fill out the form to obtain the QR Code.
The Online Covid-19 Health Declaration System has been introduced at the Bandaranaike International Airport (BIA) with the initial step of moving to touch-free and paperless boarding technology. The new system was introduced to ease the passenger handling process at the airport. Upon submission, passengers will have the facility to capture a QR-Code and will also receive an email with that QR Code.
With the QR Code, airport management will be able to instantly confirm the passenger's health status during their health declaration. The Health Declaration Form was issued by the Health Ministry to facilitate identification of the Covid-status of arriving passengers. Passengers can submit their details before boarding the flight, while travelling (provided the flight has internet facility) or after landing at the airport by accession the AASL official website https//www.airport.lk/health_declaration/index.
The AASL requests all passengers to fill out the form accurately and completely in English language. Each traveller should fill out a separate form. This project was launched at BIA with intention of providing a convenient travel experience for our valued travellers.