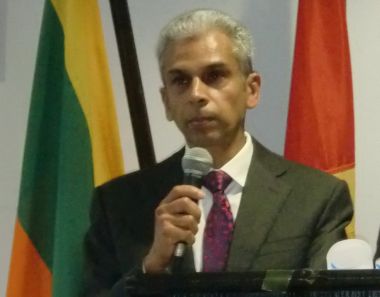 Bringing the community together as one nation has been one of the central issues taken up by Consul General Mr. Pradip Jayewardene in Frankfurt, Germany. Several initiatives were taken and activities launched to make this happen. During his speech at the national day celebrations earlier, the Consul General summarized the progress towards achieving his goals for the Mission during the last year and plans for this year in community relations as well as improvements in the core services provided by the Mission and progress in trade-commerce area.
This is the vision President Mahinda Rajapaksa also stressed during his address to the nation when Sri Lanka commemorated the 65th Independence Day in Trincomalee, for every Sri Lankan to live freely anywhere in the island without internal boundaries and to work together towards economic prosperity. The President's speech from the same day earlier was broadcasted to the audience at the consulate celebrations.
The Consul General's Speech at a glance:
- Improving the consular and visa services provided at the Mission
- Implementing a new bi-lingual website combining Embassy in Berlin and Consulate General in Frankfurt
- Ensuring that a Tamil speaking officer is available, especially to facilitate communication with those whose mother tongue is Tamil
- Organize and conduct small gatherings around Germany with Tamil diaspora to encourage a proper dialogue addressing their pressing concerns and to clarify the current state of affairs
- Planning and organizing a multitude of social and community events
- Organize business forums, make connections to improve bi-lateral trade
- Facilitating travel media exposure of Sri Lanka in Germany
The full text of the speech follows:
"Ladies and Gentlemen,
I am very happy that all of you are with us today to celebrate the most important day of the year for our country. During the last year my staff and I have worked hard to improve our service to you as a consulate. We have made many changes to improve our service both in quality and speed. Last year we implemented a new website combining both the Berlin Embassy and our consulate providing information both in German and in English. The success of this website is seen by the high usage from the first month of going live.
As a large number of Tamil speaking people come to us, we have ensured that a Tamil speaking officer is available to speak to them. The ability to communicate in their mother tongue is a great relief to many people, especially the more senior people who visit us.
Last year we also organised or participated in several events to promote the country and to involve our community. I need to specially mention the musical event at the castle of Engers in Neuwied, the Cricket match in Bonn and the event in Karlsruhe where we arranged a meeting with the community where they could ask questions from me directly. Through these events we were able to give the German public a better idea of Sri Lanka and also bring our own communities closer. I would like to say a sincere thank you to the many people who worked hard to make these events possible.
We have also spent a great deal of our time in trade related activities, this includes arranging two investment forums in Zurich and Geneva, a delegation to Expo 2012 and attending and supporting Sri Lanka companies in about 15 trade shows in Germany. We also prepared a comprehensive report on the tea market in Germany and had a high level meeting with the German rubber association. In promoting tourism we assisted Merian Magazine who has published their January issue on Sri Lanka, I encourage all of you to buy a copy as it is truly spectacular. There are also several video production crews visiting Sri Lanka to make documentaries for German TV .
This year we have planned many activities, starting this month, on the 19th and 20th a German University will run a workshop in Colombo on the concept of 100% Renewable Energy for Government and private sector. Our consulate was able to bring together the Umwelt Environmental Campus and the GIZ, to make this event possible. On the 25th we will be a partner country in one of the largest new year celebrations in Frankfurt. This is combined with a business forum which will be attended by around 20 Sri Lankan companies and at least one Cabinet minister and other government officials. There will be performances by the De Lanerolle brothers and the Bishops College Hewisi Band. We will also have a second event for the German public and our own community on the 26th. There will be no charge for this event. However we welcome sponsors for the lodging and local transport of 20 children, two teachers who will come with them.
This year we celebrate 60 years of diplomatic ties with Germany and several events are planned during the year. We will keep you informed as these are finalised and look forward to your involvement.
I hope this gives you a brief idea of what we have been doing though the year. Many of you have helped us and we appreciate and value this assistance very much. I would like to request your continued assistance. May the year bring health happiness and prosperity to all of you."
Images from the 65th Independence Day celebrations in Trincomalee, Sri Lanka