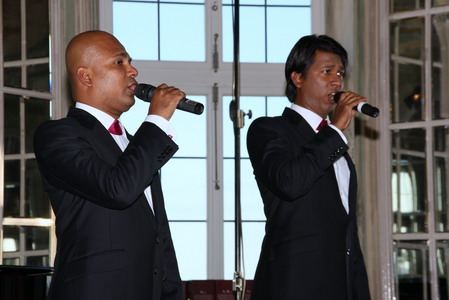 Sri Lanka is an island with a rich, multicultural heritage. With the intention of promoting and celebrating this unique heritage of varied styles of arts and culture in Sri Lanka, Consul General Pradip Jayewardene and Mrs. Shaan Jayewardene are organizing a series of events in Germany. Prince Syan w Syan and Princess Syan were invited as chief guests on this special occassion.
As the first of this series, an appreciative audience was treated to a musical concert by De Lanerolle brothers in Castle of Engers at Neuwied on Sunday 13th of May. De Lanerolle brothers have performed around the world and have earned musical accolades and recognition as a 'dynamic duo' with ability to mesmerise their audience. The concert took a musical journey through time, beginning with a series of classical favourites and travelling through to the tempos of modern era.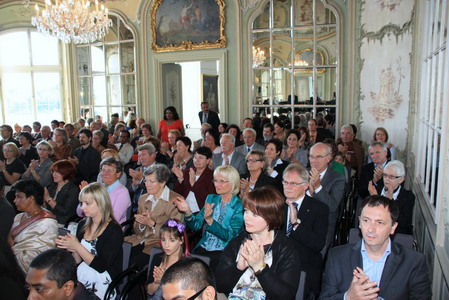 Welcome speech from the Consul General Pradip Jayewardene:
"His Excellency Ali Hussain Didi, Ambassador for Maldives, Honorary Consul of Sri Lanka, Mr. Nihal Samarasinghe, Miss Edeltrud Pinger, Mr.Sagara Abeygunewardene, Count and Countess Alexander and Gabriela of Sayn-Wittgenstein-Sayn, Ladies and Gentlemen:
Today we celebrate de Lanerolle Brothers from Sri Lanka under theme, "re-awakening."
Sri Lanka today is re-awakening from decades of conflict and centuries of foreign rule to take its rightful place in Asia and the World. We once had one of the world's greatest civilisations with highly developed irrigation, agriculture, arts and literature and we were a fountain of Buddhist learning.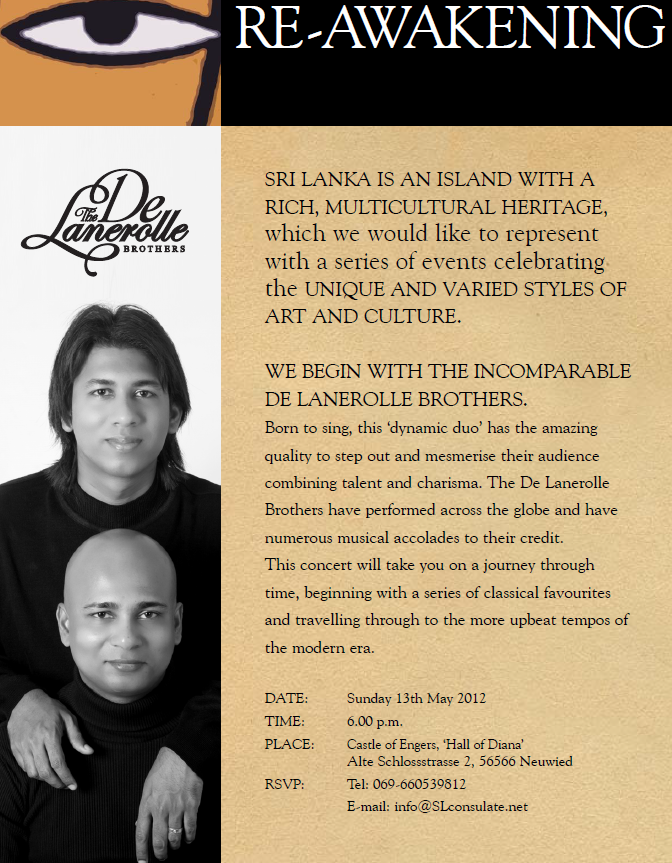 We believe that a golden age is again possible.
The purpose of the re-awakening programme is to show our appreciation to the people of Neuwied and give something back, especially "Freundeskries(circle of friends) Neuwied Matara" who took great effort to support our people to rebuild and recover after the 2004 Tsunami. Re-awakening is also a way to show you what Sri Lanka can offer through its people and their diverse abilities. Our people are our greatest resource, with so much variety in personalities, skill and talent. George Bernard Shaw said "Ceylon is the cradle of the human race because everybody there looks an original."
I hope you enjoy the music brought to you by de Lanerolle Brothers.
Thank you for being with us today."