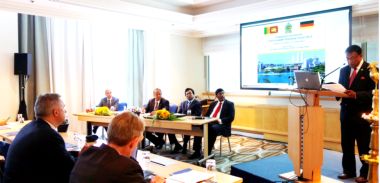 Top German biz are keen on the forthcoming C'Wealth Business Forum in Sri Lanka. "The successful C'Wealth Business Forum kick-off event of 06 September at Frankfurt Hilton focused on the forthcoming C'Wealth Biz Forum in Colombo in November, and was a result of several months of hard work of (HE) Sarath Kongahage (Sri Lanka's Ambassador to Germany), myself as Frankfurt's Sri Lanka Consul General, and G. L Gnanatheva (Sri Lanka's First Secretary (Commercial) in Frankfurt). It was attended by top-tier German biz -including private sector firms such as Siemens, Eurex Frankfurt AG, business collectives such as DAW, Chambers, Academia, think tanks and even a state Ministry" revealed an upbeat Pradip Jayawarene (Frankfurt's Sri Lanka Consul General) on 13 September.
Consul General Jayawarene was on phone from Frankfurt on 13 September describing the strong interest shown by German business on Sri Lanka's new investment opportunities and the forthcoming Commonwealth Business Forum to be held in November.
"This event, organized by the Sri Lanka Mission in Frankfurt on 06 September, was a business crowd-puller" said a satisfied Consul General Jayawardene, and added: "No less than 48 German institutions have attended the Preparatory Summit for the Commonwealth Heads of Government Business Forum 2013, held in Frankfurt. Most of the participants from the business organizations present were responsible for their regional operations across the globe. Several German banks, three Chambers and a think-tank were among the attendees at the Forum. Some of the participants have already registered for the Commonwealth business Forum 2013 to be held in Colombo November this year. A few others are considering their participation favourably. There were many investment inquiries related to Banking as well as Power and Energy sectors of Sri Lanka. Some of them, specially industry sector players, wanted to know more about changes to Sri Lanka's exchange rate regime and certain tariffs."
"Only the captains of Commonwealth's business can deicide C'Wealth's economic destiny" said (HE) Sarath Kongahage (Sri Lanka's Ambassador to Germany), addressing the 06 September Forum. "You will find almost the same rules of origin across most of the countries of the 2.2 Billion commonwealth market. The added advantage is that you can forecast the same system of laws in the Commonwealth and this commonality is your first opportunity. If you can continue to focus on the C'Wealth as a single trade bloc over the long term and work on it, you stand to reap strong benefits. The future of world trade and politics are based on the business potentials that countries offer. Together, let's explore these opportunities" (HE) Kongahage added.
Neomal Perera, (Deputy Minister of External Affairs and the Chairman of the Commonwealth Business Forum 2013) addressing the event, said: "Sri Lanka is the entry point to the entire South East Asia, which encompasses the biggest populations of India, Pakistan and other south Asian Countries through the successful free trade agreements Sri Lanka has done with them specially India Sri Lanka Free Trade agreement, Pakistan Sri Lanka Free trade Agreement and the South Asian Free Trade Area. We envisage an over-whelming interest in the participation of the Commonwealth Business Forum across the Globe also focussed on these FTAs".
A Guest lecture on Sri Lanka Economic and Financial issues was delivered by C J P Siriwardena, the Assistant Governor of the Central Bank of Sri Lanka while Sri Lanka's investment regulatory sphere and its potentials were presented by Mr. U Sirigampala (Director/Board of Investment of Sri Lanka). An interactive discussion with the questions and answers on the session's presentations, were chaired by Frankfurt Consul General Jayewardena.