Mr. Pradip Jayewardene, The Consul General of Sri Lanka and Mrs. Shaan Jayewardene are hosting a Sri Lankan Musical Concert to celebrate 60 years of diplomatic ties between Germany and Sri Lanka.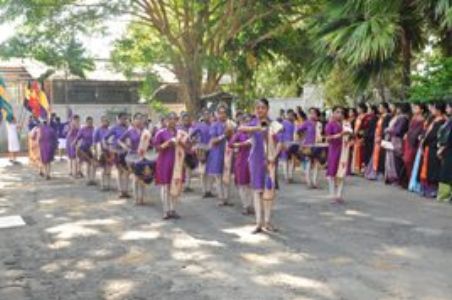 The concert will be held on Tuesday, 26th February 2013 at 19:00 hrs. The Hewisi Band of Bishop's College will perform with the world renowned singing duo, De Lanerolle Brothers at this concert, giving a rare glimpse at the traditional Sri Lankan music. The concert is organized in collaboration with the Tourist Board of Sri Lanka – Western Province, Consulate General of Sri Lanka in Frankfurt, Sri Lankan Airlines and Sri Lankan well wishers domiciled in Germany.
The Consulate General of Sri Lanka in Frankfurt is offering a limited number of free invitations for this event. If you wish to receive an invitation please send us a written request before the 20th February with your full name, postal address and telephone, and mention how many people wish to attend.
As the space is limited, invitations are issued on "first come - first served" basis and priority for seating will be given to those who have confirmed the attendance after receiving the invitation.
Contact us:
(1.) By Online Form: click here to fill in and submit the Online Form
or,
(2.) By email:
or,
(3.) By fax: 069-660.539.899
Bishop's College Hewisi Band
The beating of drums and the blowing of the conch shell has been a longstanding tradition in Sri Lanka when it comes to greeting dignitaries, welcoming guests, commencing religious activities and at many more significant occasions and events.
Hence it doesn't come as a surprise that a Hewisi band (oriental troupe) was inaugurated at Bishop's College (one of the foremost private girls schools in Sri Lanka) in the early 1970's. The band has since developed and evolved into a professional unit that plays a vital role in all school activities. The students are trained from a young age and continue to be educated in the art forms of dance and drumming while learning discipline, diligence and the ability to work in a group setting.
The Hewisi band at Bishop's College has been supported and encouraged by all the principals and authorities of the school because they feel it is important for the students not only to be educated in the art but also know and appreciate the country's national heritage. They learn how these dances and drums have evolved, from which part of the country they have originated, for which specific festivals and why they are performed. So even though the practices are rigorous at times, it is still a very rewarding experience.
At present the band is trained by Mr. P.W.T. Dian, a highly skilled dancer who has a Bachelor of Arts Degree in Dance and has many years of experience in his field.
The Bishop's College Hewisi band is very honoured to be invited to perform at the New Years Reception hosted by the German Asian Business Circle in Frankfurt where there will be over 1000 delegates in attendance and at the music concert at the invitation of the Consul General Mr. Pradip Jayewardene and Mrs. Shaan Jayewardene.
De Lanerolle Brothers
Rohan & Ishan De Lanerolle, or The De Lanerolle Brothers' are returning to Frankfurt in 2013 due to popular demand after their enchanting show in 2012. Famed for their prowess in the music industry, De Lanerolle brothers have teamed up to mesmerize and wow audiences in Sri Lanka and overseas.
Known for their prowess in Sri Lanka and internationally, together and as individuals the brothers have graced The Weill Recital hall, Carnegie Hall - New York, The Altadena Open Air Theatre - Los Angeles, The Shady grove concert Hall - Washington DC, St Paul's Church - Chicago, The Sheldonian Theatre - Oxford, The Adrian Boult Hall - Birmingham, UK, Banbury Church - Oxford, The Bentley Music Auditorium - Malaysia and other appearances in Australia, Singapore and the Maldives. They have collaborated with internationally acclaimed Pianists such as the likes of Rohan De Silva - USA, Dr Jonathan Clarke – UK, Michael Nikolov - Austria, Dhilanthi Fernando - USA and Orchestras such as The Christ Church Festival Orchestra in Oxford - UK, The Symphony Orchestra, The Philharmonic Orchestra and the Youth Orchestras of Sri Lanka and are regarded as one of the, if not the best entertainers in Sri Lanka.