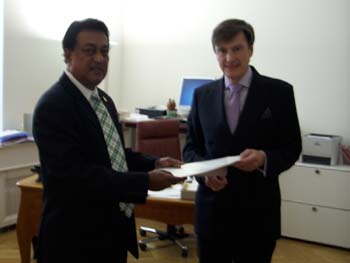 H.E. Sarrath Kongahage, the Ambassador Extraordinary and Plenipotentiary of the Democratic Socialist Republic of Sri Lanka to the Federal Republic of Germany with accreditation to the Swiss Confederation, presented to Ambassador, Lorenzo Schnyder von Wartensee , Head of Protocol of the Department of Foreign Affairs of the Swiss Confederation, the open papers of the Letters of Credence at the Swiss Foreign Ministry on 12 th October 2011.
After a brief interaction between the Head of Protocol and Ambassador Kongahage, the discussion was later joined by Ambassador Mr. John Thöny, the Head of the Diplomatic Immunity Section of the Swiss Foreign Office.
During talks with Ambassador Beat Nobes, the Assistant Secretary of State for Asia Pacific of the Swiss Foreign Office, the current status of the bilateral relations between Sri Lanka and Switzerland was discussed. Ambassador Kongahage briefed the Assistant Secretary of State of the current development in Sri Lanka, in particular, about the rehabilitation, reconstruction and reconciliation process after the defeat of terrorism. While thanking the Swiss government for assisting Sri Lanka in difficult times, in particular, through the Swiss Development and Cooperation, the Ambassador explained the resettlement process of IDPs, the progress of de-mining activities and the release of ex-LTTE combatants and their reintegration process.
In addition, Ambassador Kongahage met with the Head of Section State of Origin of the Federal Office of Migration of the Federal Department of Justice and Police of the Swiss Confederation and discussed the issues relating to the Sri Lankan expatriate community living in Switzerland. During the meeting with Ambassador Claude Wild, the Head of the Political Affairs Division IV of the Swiss Federal Department of Foreign Affairs, and officials of the Division, Ambassador Kongahage detailed the measures taken by the Government of Sri Lanka to uphold the human rights in the country and emphasised that Sri Lanka is one of the oldest democracies in Asia and that protection and promotion of human rights have been ensured by the constitution of the country itself.
Ambassador Kongahage also met with Ambassador Manuel Bessler , the Head of Division for Humanitarian Aid of the Swiss Agency for Development and Cooperation of the Federal Department for Foreign Affairs and discussed the development assistance channelled through the Swiss Development and Cooperation to Sri Lanka.
After the completion of the official interaction with the Swiss officials, Ambassador Kongahage proceeded to Zurich and paid a visit to Zurich Buddhist Vihara in Lenzbarg. Subsequently, he addressed a gathering of the expatriate community in Zurich and highlighted the important role to be played by the expatriate community in the development process of the motherland in the dawn of a new era after defeating the world's most ruthless terrorist organisation, by which the country had suffered for more than three decades.
Embassy of Sri Lanka
Berlin
20th October 2011