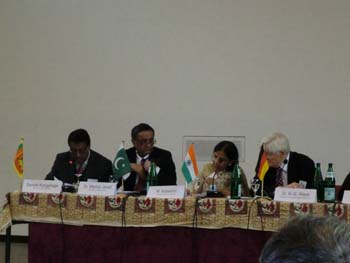 Ambassador Sarrath Kongahage represented Sri Lanka in the panel discussion on 'Rural Development – a key political issue in South Asia' organised by the Department of Culture and History of India and Tibet and Asia-Africa Institute of the University of Hamburg on 19 th November 2011. The panel discussion was organised as the principle programme of the 'Ninth South Asia Day' by the University of Hamburg.
Presenting on a detailed statement, Ambassador Kongahage highlighted that rural development has become one of the key areas of development priorities of Sri Lanka in the post-conflict period. Ambassador detailed that the Government of Sri Lanka has initiated a number of programmes in line with the Mahinda Chinthana - Vision for the Future towards balanced regional development with diversity. The 'Divi Neguma' programme, conceptualised on 'People initiate, Government Facilitates', drew attention of both panellists and the audience. H E the Ambassador argued that a community participatory development process would engage the civil society in good governance policies, and thereby the success of Divi Neguma programme would navigate the global food security endeavours to combat the food crises and eradicate the absolute poverty through realising the dream of the prosperous village with healthy and economically empowered households.
The panel was comprised of the Ambassador for Bangladesh, the Consul General for India in Hamburg and seniors diplomats from the countries of the South Asia region and scholars and experts on rural development in South Asia.
The panel discussion was followed by a presentation of traditional cloths and fashion in South Asian countries in transition between tradition and modernity. The modeling of Sri Lankan traditional clothes and fashion by Ms. Siobhan Silva, Ms. Vimala Munipalle and Mr. Julien Asela Hofer fascinated the event. The presentation on traditional cloths and fashion of Sri Lanka by Mrs. Angela Silva enlightened the audience. The evening session of the program attracted by traditional music and dance performance by the respective countries from the South Asia region. The audience was amazed by Almut Jayaweera and Sulakshi Fonseka with fascinated traditional Sri Lankan dance performance.
Embassy of Sri Lanka, Berlin, 28 th November 2011