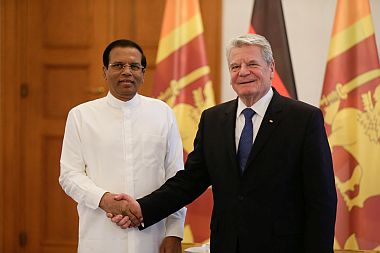 During his visit to Germany from 15 - 18 February 2016, President Maithripala Sirisena met Federal Chancellor Angela Merkel and German Federal President Joachim Gauck and had fruitful discussions to enhance the cooperation between the two countries in various fields. He also had bilateral discussions with Foreign Minister Frank-Walter Steinmeier and Federal Minister for Economic Cooperation and Development Gerd Müller.
Sri Lanka signed several agreements with Germany which will bring large number of benefits to Sri Lanka.
A business meeting, which was attended by the representatives of 250 leading companies in Germany, was held with the participation of President Sirisena. He invited the German entrepreneurs to invest in Sri Lanka, which is now coming forward in the competitive world economy.
The President invited the Sri Lankan expatriates in Germany to return to Sri Lanka and build the motherland, experiencing the coexistence and the reconciliation which has been established in Sri Lanka after the end of terrorism.