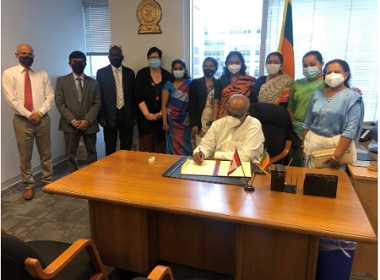 The newly appointed High Commissioner-designate of Sri Lanka to Canada Harsha Kumara Navaratne assumed duties at the Sri Lanka High Commission in Ottawa on 15 October 2021. He was received upon arrival at the High Commission by the members of the staff.
Addressing the staff of the High Commission upon assumption of duties, High Commissioner-designate Navaratne outlined his priorities in Canada and the need to enhance political, economic and people to people ties. He also highlighted the importance in building on the reconciliation efforts underway in Sri Lanka and the need to work with all communities of Sri Lankan heritage.
Continuing his remarks, High Commissioner-designate Navaratne mentioned that the doors of the High Commission remain open to anyone looking for assistance and that all were committed to working actively in order to carry out their duties in their efforts to serve the people. He outlined the need to highlight the potential available in Sri Lanka in order to encourage more trade and investment from Canada.
The High Commissioner-designate stated that the President of Sri Lanka had a new approach to promote Sri Lanka as a brand in North America in order to have mutual benefit. He also stated that as the West was focusing on Asia, Sri Lanka could be the peaceful entry into South, South East and East Asia. High Commissioner-designate Navaratne also stated that once he presents credentials, he would be traveling across Canada to meet like-minded groups in order to enhance cooperation and coordination.
His assumption of duties was marked by a simple ceremony organized by the staff of the High Commission, with milk rice and refreshments in keeping with Sri Lankan tradition. The spouse of the High Commissioner-designate D. A. K. Navaratne and the youngest daughter of the High Commissioner-designate T. L Navaratne were also present on the occasion.
High Commissioner-designate Navaratne has an illustrious and multifaceted career during which he has served as the Founder and Chairperson, Sevalanka Foundation, Commissioner, Human Rights Commission of Sri Lanka, Chairperson, International Network of Engaged Buddhist (INEB), Headquarters in Bangkok, Thailand, Executive Member of Peace Prize Committee Niwano Peace Foundation, Tokyo, Japan and Film Producer.
Sri Lanka High Commission, Ottawa 18 October, 2021