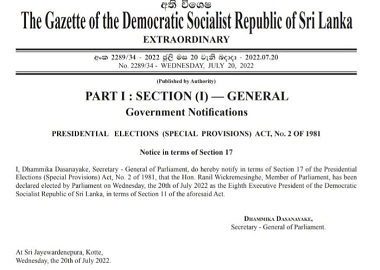 Notice in Terms of Section 17
I, Dhammika Sasanayake, Secretary-General of Parliament, do hereby notify in terms of Section 17 of the Presidential Elections (Special Provisions) Act No. 2 of 1981 that the Hon. Ranil Wickremesinghe, Member of Parliament, has been declared elected by Parliament on Wednesday, the 20th of July 2022 as the Eighth Executive President of the Democratic Socialist Republic of Sri Lanka in terms of Section 11 of the aforesaid Act.
Dhammika Dasanayake, Secretary-General of Parliament.
At Sri Jayewardenepura Kotte, Wednesday, 20th of July 2022